« Previous - Version 7/131 (diff) - Next » - Current version
James Hylen, 10/18/2011 12:25 PM

---
Minos Control Room Memo Pad¶
CONTACTS | YOUR SHIFT | UNDERGROUND ACCESS | ACNET |BEAMDATA| CONTROL ROOM OPS | CONTROL ROOM LOGBOOK | PROBLEMS? | HUNGRY?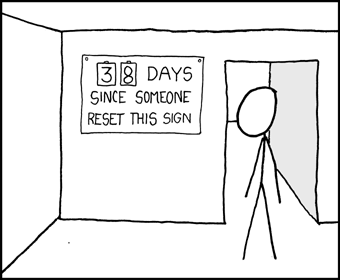 Last Modified 2011 Oct 18 12:21 CDT¶
Shifts may not seem like a glory job, but the quality of the data (hence analysis) depends on them.¶
Why are you here? To accomplish the goals related to YOUR SHIFT¶
NEW SHIFT REQUIREMENT All shifters must contact the Main Control Room at the beginning of their shift (x3721)
¶
This goes something like:

MCR: "Main Control Room."

BS: "This is Britney Spears reporting for my MINOS shift at Fermilab."
Reload this page at the beginning of your shift. Can you edit this wiki? If not, see below for instructions. This memopad is meant to be a repository for Things Shift Should Know Today. The memopad is less comprehensive and detailed than the shifter guide and more permanent than the stream of things in the CRL . For issue tracking please still make JIRA entries, but if there's an open issue which the next shifter will bump into, make a note about it here.
Attention: If the beam will be down for more than 30 minutes during normal work hours (M-F), call SOUDAN to let them know (218)753-2909¶
Stuff you want other shifters to know, put here! A persistently dead channel? Some expert asked you to keep an eye on some number? Links to useful instructions? Something in this page which no longer applies? Edit away! This is now a RedMine wiki, edit with your Fermilab Services account. See the bottom of the MemoPad for details.
Run Configuration:¶
L010 185N ( for the BeamCheckList form ) *
We are currently running in the FORWARD horn current configuration.
The Far Detector magnetic field is currently FORWARD. If the DCS page does not agree, then this is a Major Problem.
The Near Detector magnetic field is currently FORWARD. If the DCS page does not agree, then this is a Major Problem.
CRITICAL ISSUES¶
CURRENT ISSUES¶
The RPS status for near detector is showing warning for Rack 2. This is a problem with humidity sensor. It is being worked on.
The beam checklist doesn't reflect the reality of MINERvA in the control room. MINERvA put the beam plots in the NuMI beamline log every shift. What we should do is do a 24 hour 0800 to 0800 set of shift plots every day shift and put them only in the MINOS log. The checklist should be updated accordingly.
MINOS-OM froze under the following circumstance: During the MINOS FD OM checklist, made the plot Producer/Checklist plots/Charge Injection/CI Gain - 1D. When right-clicking on the plot in an attempt to put the y-axis in log form, another window opened, and the computer froze (except for the clocks) and was unresponsive to mouse or keyboard clicks. We killed several processes using an ssh window from a different machine and function was restored. This was not caused by memory saturation. This would be a good thing to address when we are shutdown to change targets.
The MINERvA Shifter¶
If you need to stop a run for an extended period of time, the MINERvA shifter needs to be informed when you stop and restart a run. Where is the MINERvA shifter? You can find out here
FD errors:¶
ND errors:¶
Bad RMS pedestals on 0-20-6
Less important notes for the shifters:¶
The run control GUIs show time to the "Next Gain". During a "GainCAL" the LI system will spend a long time flashing (a "weekend", for the far detector).
There is a wiki for RMS (ReMote Station) [[https://cdcvs.fnal.gov/redmine/projects/remotestation/wiki]]
MINOS and MINERvA are now co-located in the control room. This is intentional for efficiency, communications, and redundancy purposes. Make sure you realize these gains (e.g. talk to the MINERvA shifter).
The control room does not have housekeeping. Do not leave food, documents, and whatnot behind after your shift. Clean up after yourself.
Editing this wiki¶
You as a shifter can and should keep this page up to date. Here's how:
click on "Sign in" on this page ( upper right ). Use your Fermilab services username/password.
click on "edit" in this page. If there is no edit option for your account, email minoscrl-admin.
Update the "last modified" date at the top of this page whenever you make a change.